jennie's family & friends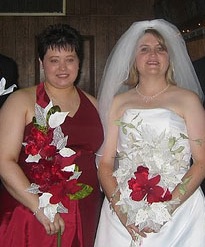 Jennie and Kitt at Kitt and Greg's Wedding, June 25, 2005.
This is the place to find photos and information about my friends and family, including those of the canine persuasion! (More stuff is in the works for this section--especially regarding the friends portion of "family and friends"--so check back soon!)
---
Online Memorial for my Grandfather
James Edward Lamb (Dec. 25, 1921--May 1, 2004)
Includes a Quicktime movie of the full military honors at his burial; posted May 2004.
Online memorial for my Grandmother
Alice Davey Calhoun Lamb (May 26, 1925--Jun. 1, 2000)
Originally posted to the WWW in June 2000.
Photos from Chanel's Wedding
Austin, Texas - October 28, 2000
Posted October 2007.
Photos from Kitt & Greg Scharf's Wedding
Austin, Texas - June 25, 2005
Posted November 2005.

Photos from Kitt Scharf's Friends Baby Shower
Austin, Texas - March 10, 2007
Posted April 2005.

Photos of Travis Keith Scharf as a newborn at the hospital
Austin, Texas - April 14, 2007
Posted April 2005.

Jennifer Presley's India Blog
Started July 3, 2006.

Photos of Abby the Labby
From July 2003; posted August 2003.
Coming Soon!
Photos of Regal Ratdog Rex
My precious snookum-wookums.
My Monopoly Collection
It's all about the equipment, baby (since I hardly ever win)! I collect anything and everything. Here's where I show it off. Also, my friends and family can see what I already have, should a gift-giving occasion arise...!
LAA List of Emails
For friends from the Liberal Arts Academy at Johnston High School, Class of 1992; started Spring 2001.
Halloween Photos 2007
From Media Resources, Collge of Vet Med (work); posted October 31, 2007.
Halloween Photos 2001-2002
From ODP Pubs (work); posted October 2002 and October 2006.

---

home email: jenniellamb@gmail.comm |

work email: jlamb@cvm.tamu.edu
---