Championship Edition Monopoly
Game: Championship Edition Monopoly
Distributor: Hasbro
Acquisition Details: From Jennifer, Birthday 2009
Tokens: Scottie Dog, Shoe, Iron, Top Hat, Thimble, Car, Ship, Wheelbarrow
Money: Standard Monopoly Money
Houses/Hotels: Sliver Houses/Gold Hotels
Community Chest/Chance cards: Re-Designed Stardard Cards
Note: This edition comes with a special trophy with strips to change the name of the champion. There is also a speed die and a scorepad included. The rules booklet has tips and tricks for championship play and an intro letter from the cheif judge of the Monopoly World Championships. This set is still in print and is valued at ~$20.00.
Game Image: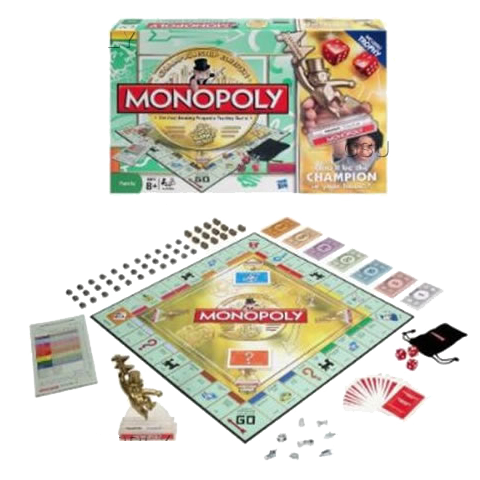 Images courtesy of: Monopoly.com.