Fibroid Frida Photos!
GREAT BIG WARNING! Here, there be photos, from my operation, of the fibroid tumor that was removed from my uterus. Leave this page now if that kinda stuff doesn't sit right with you! You've been warned.
These photos are courtesy of my doctor, Cynthia Jansky, M.D., the others in the operating room, and her digital camera. I asked her for photos that morning before the surgery, if they were possible. She gave me these prints later that day.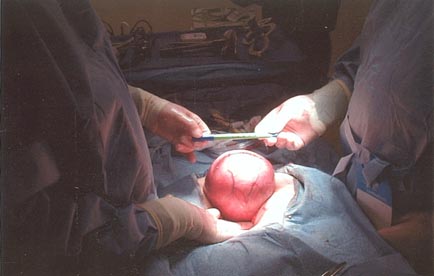 Photo #1: This is my uterus. It looks like a dodge ball with some ugly spider veins to me, but she assured me that it is actually my uterus. It was lifted out of the abdominal incision, before the extraction of the tumor.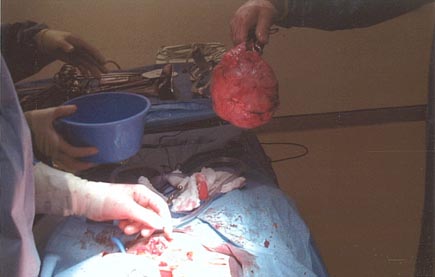 Photo #2: And now, the moment you may or may not be waiting for! I give you, Fibroid Frida, in all her ugly glory! This is the uterine fibroid tumor (also called a myoma or leiomyoma) after it was extracted from my uterus.
The doctor says that it is a solid thing and avascular, not a mushy, bloody mess, in other words. Once it is located, (mine was in the muscle of the front wall of my uterus, they can also be on the inside, or on stalks on the outside of the uterus) it is sort of scooped out from the wall, kinda like when you scoop out a grapefruit wedge. And, apparently, they are kinda fun to take out, according to my doctor. (God love her, and I do a lot, but she is such a freaking scientific, medical nerd!)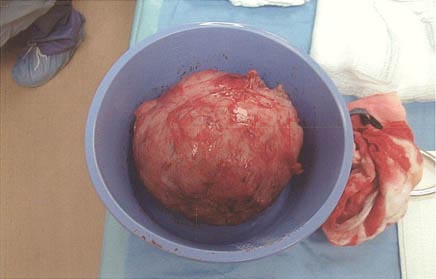 Photo #3: Here's Fibroid Frida in a bucket, on her way to pathology. (So long, Frida! I'd say it's been fun, but that's so not true! So, I'll just say it's been interesting! ;) )
According to the pathology report, here's a couple more statistics on Fibroid Frida:
a) She was totally benign. (A relief, but also not at all surprising as only 2% of myomas are ever cancerous.)
b) Her dimensions: 11.8 x 12 x 10.5 cm (My dad, the Math. Ed. professor emeritus, says that we should think of that in terms of a square box of Kleenex. He estimates that they weight would then be about 3 to 4 lbs. Apparently the second page of the pathology report hasn't made it back to the doctor's office from the hospital yet, which should give the actual weight.)
So, there you go... I'd love to hear your impressions. You know, 'cause I'm crazy and weird like that! ;)
Email me at: jllamb1118@aol.com
Eventually, I will be adding more photos and a narrative of the whole experience. I am going to be submitting it to a website where women discuss their reproductive abdominal surgeries. They don't have a myomectomy story yet, so I hope to provide mine!
--Jennie :)